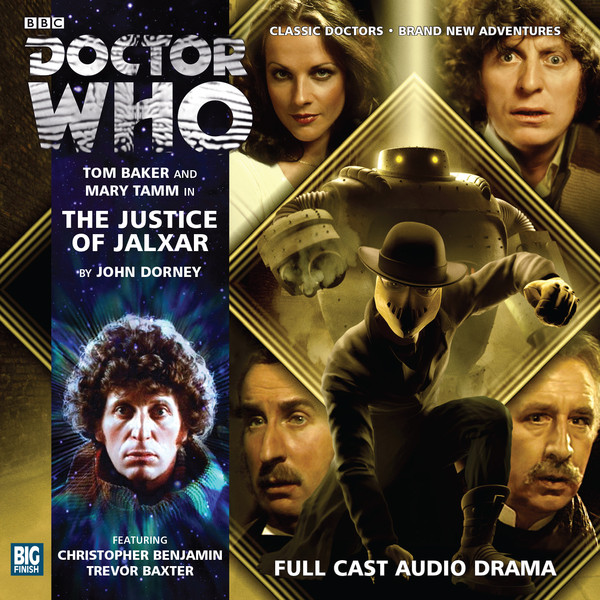 Big Finish March 2013 Release
Doctor Who - Fourth Doctor Adventures 2.04.
The Justice of Jalxar
Cast:
Tom Baker
(The Doctor),
Mary Tamm
(Romana),
Trevor Baxter
(Professor George Litefoot),
Christopher Benjamin
(Henry Gordon Jago),
Mark Goldthrop
(Bobby Stamford),
Rosanna Miles
(Mary Brown),
Ben Bishop
(Stone),
Adrian Lukis
(Harvey Marsh)
Written By:
John Dorney
Directed By:
Ken Bentley
Reviewed by Louis Rabinowitz for The Gallifrey Times
This review may contain spoilers.
---
I have a confession to make: this is my first ever Big Finish audio I've listened to. Still, with the Fourth Doctor adventures still relatively new, I hoped
The Justice of Jalxar
would be a great jumping-on point. Good news: it is.
Tom Baker with Trevor Baxter
and Christopher Benjamin.
Tom Baker is still relatively new to the world of
Doctor Who
audios, but he's slotted in perfectly to audio and delivers a reliably excellent performance as the Doctor. He's clearly having a lot of fun recording the audio too - especially with returning stars Trevor Baxter and Christopher Benjamin on board.
Speaking of Jago and Litefoot - they're one of the highlights of the audio, returning to the roles which have earned them their own audio series. Their interaction with companion Romana is a delight, with Romana decidedly unimpressed by the two amateur detectives. They're not dissimilar to fellow Victorian detectives Jenny and Madame Vastra, who are currently starring in the TV series - so if you're a fan of those characters, you'll love Jago and Litefoot.
The late Mary Tamm.
But perhaps the best actor of the bunch is the late, great Mary Tamm. It's a real shame Tamm isn't alive today, but it's good to know that she got to work with such great material in her last appearances. She's very much the 'straight woman' of the piece, unfazed by all the situations she's thrown into and the people she meets - and provides a nice foil for the often slightly wacky Doctor.
But what about the plot? It takes place in Victorian London, where a mysterious vigilante called The Pugilist is on a one-man mission to clean up the streets in his own, violent way, and passing sentences on those who are guilty of crimes (though The Pugilist's definition of a crime is fairly loose, as we find out later). No-one wants to find out who killed the criminals (besides, it gives the police a day off), so it's up to the Doctor, Romana, Jago and Litefoot to find out who the mysterious character is.
John Dorney
The story runs to a brisk 50 minutes, with a nice cliffhanger separating the two parts. As a result, the story does feel a tad insubstantial - but the short length ensures that the romp-ish pace of the story doesn't let up, and it feels more tight and focused for it - it's also backed up by John Dorney's consistently witty and engaging script. It's a fairly simple story that's easy to dive into at any point - so if you're looking for a quick, entertaining audio, this is the perfect audio for you.
My only other gripe with the story is that the voice of the Pugilist robot is often hard to understand - and considering it has some of the most important dialogue of the story, I found it a little annoying when I had to replay certain chunks of dialogue in order to understand what it was saying.
Overall,
The Justice of Jalxar
is a great audio. It might not be the longest of stories, but it's pacy, witty and all the actors give excellent performances. If you're looking for a fun, old-school Fourth Doctor romp, then this will fit the bill.
The Gallifrey Times Rating: 9/10
Many thanks to Big Finish Productions for providing the audio for review.
Pictures courtesy of Big Finish & Daily Mirror.