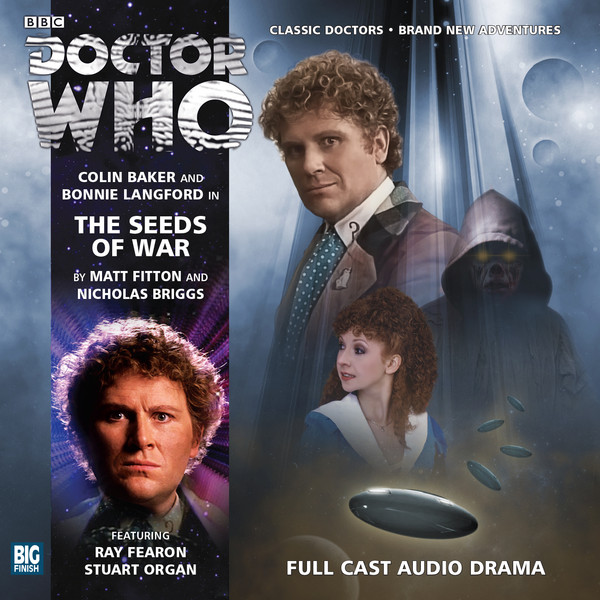 Big Finish March 2013 Release
Doctor Who: Main Range 171.
The Seeds of War
Cast:
Colin Baker
(The Doctor),
Bonnie Langford
(Melanie Bush),
Ray Fearon
(Barlow Teveler),
Ony Uhiara
(Sisrella Tevier),
Stuart Organ
(Helgert Teveler),
Lucy Russell
(Trellak),
John Banks
(Elkinar),
Beth Chalmers
(Announcer),
David Sibley
(The Eminence)
Written By:
Matt Fitton and Nicholas Briggs
Directed By:
Barnaby Edwards
Reviewed by Ryan Denyer for The Gallifrey Times.
This review may contain spoilers.
---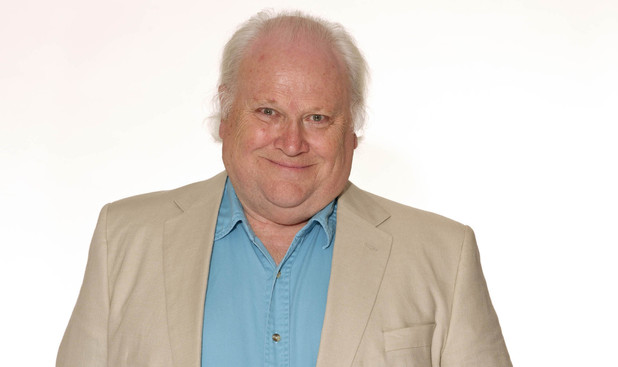 Colin Baker.
I've bought many Big Finish Doctor Who adventures, each one I've enjoyed but this one is by far one of the best I've ever listened to! If Colin Baker had this as a television adventure many years ago I am sure, with the right budget, it would've been a firm fan favourite.
Lets start with the Doctor as played by Colin Baker. Although you can his voice isn't exactly the same as it was in the 80's which nobody can help and is to be expected, it seems as if Colin has just walked back into the role. He's had plenty of practise over the last few years with Big Finish to help bring the 6th Doctor alive once more but he hasn't made it seem so real as in this story. I haven't had the pleasure of listening to the two previous audio books 'The Wrong Doctors' and 'Spaceport Fear' but I'm sure they are equally as brilliant.
Bonnie Langford.
The Doctor's companion for this story is the infamous Melanie Bush played by Bonnie Langford. She joined halfway through Colin Baker's 2nd season in 1986 and carried on until the end of the following season with Sylvester McCoy. Melanie was famous for her screams and pantomime-like dialogue but in this story Matt Fitton finally does her character justice and presents us with a more toned down version of Mel which adds another reason for this story to be amazing.
This story takes place on Kalsos where as soon as the Doctor and Mel arrive they are quickly separated and led on different adventures. The main enemy is a sort of evil entity called The Eminence, one of the best monsters to ever appear in a Big Finish audio adventure and I can't wait to see it once again next year but this time facing the 4th Doctor and Leela.
David Sibley plays The Eminence.
We are informed by the vocal interface about The Eminence and it is clear by the Doctor's reaction that The Eminence is deadly and dangerous. The story is split into 4 parts although the only real connection between them is the threat and the characters, each one seems like its own little story.
The only negative point towards this story is that the first half of part two seems to drag on just a tiny point so that's only around 12 minutes. But it just resolves the cliffhanger (sort of) for part one and then begins the set up for its own little story.
The cast.
The supporting cast is great and I hope to see Ony Uhiara who plays Sisrella Tevier in another Big Finish production soon. If you haven't purchased this yet I urge you too.
Now onto the actual plot. The Doctor and Mel arrive on Kalsos as explained above. After they are split up, the Doctor investigates and Melanie is held prisoner by Lieutentent Barlow whose story isn't really explained within the first part. He believes Mel to be an enemy but she soon wins her over and it is clear that there is supposed to be a slight romance between the two characters.
The cliff-hanger to Part one is magnificent sort of resembles that of The Caves of Androzani part 3. I won't give that away but it is magnificent and really makes you want to listen to the rest of the story.
There seems to be a theme of poverty within the story. With poor people filling the streets and people fighting over rations, even the Professor who is known by thousands seems to be struggling to stay alive, with only his daughter for help.
The music is fantastic and the scene between the professor and his daughter at the beginning of part two is where it stands out. The music isn't to repetitive and is different for every scene.
Another great performance given by a guest star is Lucy Russell who plays Trellak. Although at first she seems rather domineering, she soon mellows and becomes a great addition to the guest cast and another person I'd like to see in the future.
The story is sometimes difficult to keep up with but everything is explained by the end of the story which is the best conclusion ever. I'd like to see Matt Fitton write many more stories in the future however all his stories so far have been of such a big scale that I believe they wouldn't work in the televised series. Don't get me wrong, they are perfect for Big Finish audio stories but not on television.
I mentioned earlier about the music within these stories and it was great to hear them all in one place with The Music Suite special feature. It really captures the best parts of the music and makes you want to listen to it over and over again.
The trailer featured on this audio book is Eldrad Must Die and brand new 5th Doctor audio book coming next month. It's a sequel to 4th Doctor story The Hand of Fear which is famous for being Sarah-Jane's final regular story.
The final special feature is an interview with the writer Matt Fitton who provides and insight into the making of this story with contributions from Colin Baker. It's a wonderful interview and is really worth a listen once you've finished listening to the actual story.
The Gallifrey Times Rating: 9/10
Many thanks to Big Finish Productions for providing the audio for review.
Pictures courtesy of Big Finish and Digital Spy.
You can buy the Seeds of War here.